When you find a treatment program that works for you, you may think that's all you need to begin your recovery journey. However, recovery involves all aspects of your life. From your living circumstances to how you spend your free time, you have to be mindful of all aspects of your life during recovery. NJ sober living homes can help provide the structure you need to realign your life.
Dignity Hall's NJ Sober Living Homes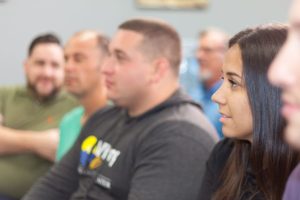 Dignity Hall offers several sober living homes throughout New Jersey. Each home offers a safe, secure, and gender-specific environment for those in addiction recovery. All of our homes abide by a strict set of rules and regulations to ensure the safety of our residents.
At Dignity Hall, we understand where our residents have been because we've been through this journey ourselves. Therefore, we understand the necessity of having discipline and structure in NJ sober living homes.
In addition to Dignity Hall's approach to sober living, there are several other benefits of sober living in New Jersey.
Benefits for NJ Residents
For residents of New Jersey, Dignity Hall sober living homes offer several benefits. First, it allows clients to stay near their friends and family. Loved ones are often key supporters during a person's recovery journey. Therefore, it's beneficial for them to live nearby.
For example, if a resident wants to stay overnight with a loved one, they can qualify for an overnight pass. An overnight pass will allow a person to visit their loved ones overnight as long as they leave and return the sober living home at designated times. Also, the resident must do a Urine Analysis and Breathalyzer test upon return. Failing these tests will result in being discharged from the house.
Staying in New Jersey also provides a familiarity and comfort that can support a person in recovery. During recovery, there's a lot of change happening in a person's life. Being in a familiar city or state can provide comfort and help maintain a level of stability. Furthermore, once the person leaves the sober living home, they won't have to go far to reintegrate back into their daily life.
Benefits for Out-of-State Residents
It's common for people in recovery to travel for treatment. For those coming from out-of-state, NJ sober living homes also provide a suitable environment. First, sober living homes in New Jersey are away from many major metropolitan hubs, such as New York City. This reduces access to addictive substances and provides a calming environment.
Recovering from addiction away from your hometown can also be beneficial for those who would be triggered by seeing familiar places or people. Being away from those environments in a New Jersey sober living home helps you take the time you need to develop coping mechanisms and relapse prevention skills. Then, once you have those skills, you can return and face any triggers or stressors.
Begin Your Journey with Dignity Hall
Dignity Hall offers sober living homes throughout New Jersey. Each of these sober living programs provides a comprehensive and secure living environment for those in recovery. Each of our sober homes is also gender-specific. Our locations include:
To learn more about Dignity Hall and how we can help you, call us today at 855.380.7560.